Angkana Kraphuttha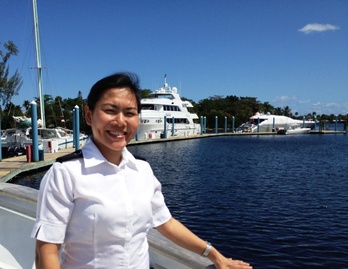 Born and raised in Thailand, "The land of smiles", Angkana has worked at sea for the past 12 years, on private and charter yachts ranging from 20 to 50 meters, and for Star Cruise on MV Gemini.
In addition to her Seaman's qualifications and stewardess experience, she is also a certified Thai and Swedish massage therapist,
hairdresser, beautician, and chef specialized in healthy asian dishes and treats.
Her attention to details, and her constant efforts towards guests well being is sure to make your next adventure a memorable one.
Professional QualificationsPYA GUEST/ICT Interior Operations course,
November 2015, No.ICTMI05-171, International Crew Training, Fort Lauderdale, USA
PYA Yacht Interior Operations, No.YII208
ICT Floral Design and care
PYA Interior Yacht Food Service, No.SS740
PYA Wine and Cocktail Introduction, No.WC1267
Food and safety hygiene level 2
STCW95/2010,
International Crew Training, Fort Lauderdale, USA
Proficiency in Security Awareness with Designated Duties, 24 October 2015, No.180
Personal Survival, 13 October 2015, No.PST 1758
Fire Fighting, 15 October 2015, No.22023, Resolve Maritime Academy, Fort Lauderdale, USA
Basic Medical Emergency, 19 September 2003, No.CBT 28024/2003, Thai Maritime School, Samutprakarn, Thailand
Basic Fire Fighting, 19 September 2003, No.CBT 28024/2003, Thai Maritime School, Samutprakarn, Thailand
Personal Survival, 19 September 2003, No.CBT 28024/2003, Thai Maritime School, Samutprakarn, Thailand
Personal Safety and Social Responsibility, 19 September 2003, No.CBT 28024/2003, Thai Maritime School, Samutprakarn, Thailand
Other qualifications
Massage Therapist, Thai and Swedish

Haidressing, Watpho hairdressing school
English language, May 2010, TTT Language School Phuket, March 2012 Inlingua, Fort Lauderdale
Basic computer and Internet, May 2010, TTT Computer School Phuket
Experience
MY Skylight, 40m ,7 crew. Temp Stew/massage therapist, 09/2016 to 10/2016 , Med.

MY Cleopatra, 57m Amels,14 crew. Stew/massage therapist, 05/2016 to 10/2016 , Med.
MY Eminence, 78m, Temporary Stew/massage therapist, May 2016, Antibes.
SY Capricorn, 30m charter sail yacht, Stew/massage therapist, Feb 2016 (temp.), Thailand.
SY Selika, Catana 19m, chef/stewardess, October 2012 to date
MY Mirgab VI, Hakvoort 49 meters, stewardess – May 2011 to September 2012.
SY Demoiselles, 26 meters cutter, stewardess – December 2010 to March 2010.
MY Magata, 23 meters Selene Ocean Trawler Yacht, Stewardess - September 2010 to Dec.2010
Schooner Raja Laut, 31 meters gaff rigged schooner, Massage Therapist/Stewardess - December 2009 to April 2010 - South East Asia
SY Lady Anita, 28 meters Classic Ketch, Massage Therapist/Stewardess, November 2009 – South East Asia
Private Maid Services, Singapore, 2006 to 2009
Nice Beauty Salon, Hong Kong, Hairdressing, 2004 to 2006
Star Cruises, MV Star Gemini, Cruise Ship, Massage Therapist, September 2003 to December 2003 - Asia
---